We're pleased to offer the following services in our Sanford Veterinary Clinic: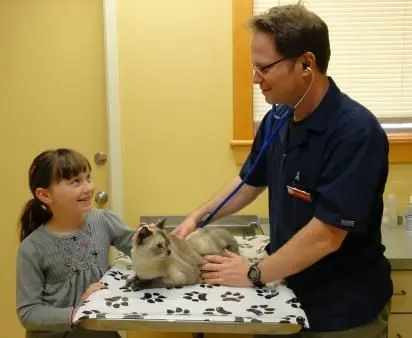 At the DMVC preventing illness in pets is our primary mission. We recommend that all cats and dogs receive a comprehensive exam annually and get the core vaccines recommended by the American Veterinary Medical Association (AVMA) and the American Animal Hospital Association (AAHA). Each patient's individual lifestyle is taken into account and other, non-core, vaccines may be recommended based only upon that lifestyle. We also advocate that every canine patient be tested annually for heartworm and tick-born disease and be placed on a monthly heartworm preventative year-round. Year-round flea and tick control is another core recommendation for both dogs and cats.
With over 75 years combined experience, our veterinary team is fully capable of working up and treating most medical conditions that dogs and cats experience. Our in-house laboratory and computer-integration with outside laboratories means that you will get diagnostic results quickly, usually the same day as your pet is examined, often even during the office visit itself. For complicated medical cases, we cooperate with all the nearby referral centers.
Our surgical repertoire includes canine and feline spays and neuters, as well as most soft tissue procedures involving the gastrointestinal, urinary and hepatic systems. All patients are thoroughly assessed before any given procedure is performed to maximize the likelihood that it will be successful. All anesthetic patients monitored during their procedure with the latest electronic monitoring devices available. If your pet has a surgical condition requiring a specialist, our staff will cooperate fully and help you find the best referral doctor for your pet's need.
We consider dental care an important aspect of our preventive care mandate and our facility hosts a recently-renovated dental suite. As with our surgery patients, each dental patient is thoroughly assessed before undergoing anesthesia and is electronically monitored during the procedure. We also carry a line of Veterinary Oral Health Products (VOHC) to lengthen the time between dental procedures.
Our computerized appointment schedule allows us to efficiently make appointments for you and your pet. Our team will attempt to accommodate all requests to the best of our ability.
Urgent and Emergency Care During Regular Business Hours
We are available for urgent and emergency care during normal business hours. If you feel your pet needs to be seen before you are able to get an appointment, our team will work to accommodate you in between scheduled appointments. If possible, please call us beforehand at (207) 324-4683.
Recommended Veterinary Emergency Centers

In the event that your pet experiences an emergency after hours or on a holiday, please contact one of the following veterinary emergency centers:
At the Down Maine Veterinary Clinic, we care for many types of pets:
We accept payment via cash, check, MasterCard, Discover, Visa and American Express. So that we can continue to provide you high quality service utilizing the best medical technologies, we request that payment be made at the time services are rendered.
We provide estimates for all surgeries and hospitalizations. If you have not received an estimate, you are welcome to request one at any time for your expected charges.
The Down Maine Veterinary Clinic offers discounted services to local area rescue groups. Pre-approval is required to qualify for the rescue group discounts, please call us for more information.
Dental Discounts: If you get your pet in for a dental within 60 days of it being recommended, we are happy to take $30 of the cost of the procedure!